Wednesday, 16 March 2011
Posted by

Brainlove
at 11:56 pm
1 comments

Posted by

Brainlove
at 8:43 am
0 comments

Wednesday, 9 March 2011
New Album Released May 23rd 2011 via Brainlove Records
May 20th London Show at King's Place Announced
"Dazzling"
- Pitchfork
"Layer upon layer of musical quality"
- The Guardian
"Haunting, fragile, full of tension"
- Drowned In Sound
"Enthralling"
- CokeMachineGlow
Experimental folk artist
David Thomas Broughton
will release a long-awaited new album, entitled "Outbreeding", via independent London record label Brainlove Records on May 23rd 2011. Featuring eleven songs that will be familiar to his loyal and ever-growing live audiences, "Outbreeding" brings together compositions written over the last couple of years into a compelling new collection.
As seen at festivals such as Primavera, End Of The Road and Green Man, and at his sold out 2010 ICA show, Broughton's famous semi-improvised live show baffles and beguiles; starting songs with beautiful refrains, he then engulfs them in feedback and noise, removing the layers one by one to reveal once again the beauty beneath. Elements of physical comedy and surreal interludes complicate things further. He will headline a special album release show at King's Place in London on May 20th, with further UK dates to be announced soon.
"Outbreeding" is at once raw, honest, playful and poignant, leaving the listener unsure of whether to laugh or weep - the exact kind of divergent response that has made David Thomas Broughton inspire such devotion in his fans and followers. For converts, "Outbreeding" is essential listening; for the uninitiated it's a perfect entry point yet into this magical body of work.
Album page:
http://www.brainloverecords.com/davidthomasbroughton
DTB site:
http://www.davidthomasbroughton.co.uk
Wiki Biog:
http://en.wikipedia.org/wiki/David_Thomas_Broughton
Hi-res Cover:
http://farm6.static.flickr.com/5140/5512576537_948eac0378_o_d.jpg
Hi-res Portrait:
http://farm6.static.flickr.com/5298/5513214656_10befa7274_o.jpg
Press Contact
: john@brainloverecords.com
Posted by

Brainlove
at 10:22 pm
1 comments

Saturday, 5 March 2011
From an unexpected ass-wiggle in a London Student Union, to a dazzling multimedia stadium pop show at a castle in rural France, to a band breaking bits of furniture over each other in Dudley, these are five performances that have stuck with me over the last decade.
1. David Thomas Broughton, Bandstand Busking, Arnold Circus, 02/08/09
David Thomas Broughton is a startlingly unpredictable performer. He's come up with a unique kind of performative improvisation, in which he impishly, self-destructively misbehaves throughout his set - starting out on Buster Keaton style skits such as walking over the back of a normal dining-room chair as a it falls to the floor, or undermining the seriousness of his songs with bouts of beat boxing and rapping, or throwing dramatic Elvis-style shapes at the front of the stage while his loops slowly deteriorate in the background.
At a Bandstand Busking session a couple of years ago, Broughton was on brilliant form. He
chased the cameraman around the bandstand mid-song
in a game of cat of mouse, coiling his guitar wire around the mic in doing so; stopped mid-song to self-consciously rub imagined dust off his clothes;
started a dictaphone running
, but had nowhere to put it down, and so grasped it between his chin and shoulder as he played. It was never going to work, and he knew it - the tape machine clattered to the floor and smashed into pieces. It was a moment of intentional self-sabotage that snapped the crowd out of the soporific trance that acoustic music can create. With the crowd's full and focussed attention, it's even easier for DTB to break hearts with the imperfection and poignancy of his songs.
2. Michael Gira / Angels Of Light, ULU, 26/05/05
I'd never heard Angels Of Light before, and was in fact at this show to see the first UK performance by the support. Michael Gira, the band leader and frontman, sat in a chair front and centre playing acoustic guitar and giving a gravitas-laden, growling performance. At the peak of one song, he started gurning and grinning and stood up from the chair. In a manoeuvre that was surreal and discomfiting, he stumbled to forwards a step or two, turned his back to the crowd and started shaking his ass from side to side, like some drunken uncle at a family event that clambers onto the table, three sheets to the wind. For all of the seriousness and weight of the music, it was this simple act of inappropriate mischief that brought the performance into the moment, punched through into my memory, and illuminated Gira's attitude towards being on the stage, somehow.
3. Kevin Blechdom, OUR AURA HOUR, Berlin, 12/07/05
A truly strange and brilliant show in Berlin. Kevin Blechdom put together a night of all-stars from the Berlin art-music community in a lean-to DIY space to celebrate the release of her weird but wonderful album "Eat My Heart Out". It was the first time I saw Planningtorock, who would later release a 7" on Brainlove, towering over the crowd like an operatic mannequin come to life. Max Tundra played a set of breakneck speed pointillist pop. Kevin Blechdom came on last, and played a set of bizarre, hysterical songs about breaking up and breaking down, desperation and obsession. At the finale, she stripped off from the waist up and produced from a huge animal heart, proceeding to caress it, hug it, hold it up and ultimately cast it into the crowd. In turns horrific, surreal, funny and gauchely confrontational, it was an unforgettable moment that successfully communicated the insane emotional turmoil the show and the album were based around.
4. The Flaming Lips, La Route Du Rock, France, 15/08/10
The Flaming Lips have built their career around providing a huge live spectacle. At La Route Du Rock, their incredible show clicked somehow - the right time of the night, the right mood in the crowd and maybe the alignment of some faraway suns; from
Wayne's entrance in an inflatable bubble
to the
eye-shattering digital show, jets of smoke, giant balloons and plume of streamers and confetti throughout
, this was, put simply, the gig of a lifetime. The best film I found of it is shaky, distorted and shot through the crowd, but it fully captures the full noise and thunder - The Flaming Lips is about being there and surrendering yourself to what's happening, and this is as close as you can get on YouTube.
5. Queen Adreena, Dudley JBs 15/11/02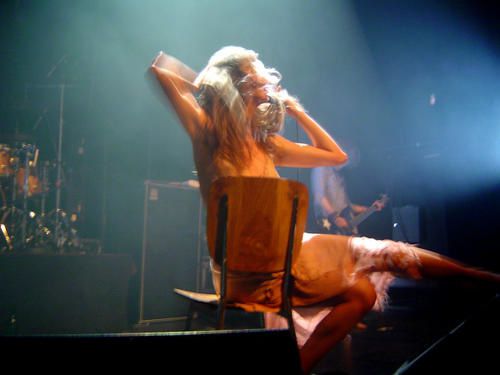 Katie Jane Garside of Queen Adreena became quickly infamous for her strange performances. Set against buzz-saw guitar lines and heavy bass, she writhed onstage, tearing at her clothes, smudging her makeup into a rictus clown face, thrusting the microphone between her thighs, teetering on chair and barging into her bandmates and audience members, dripping with wine and sweat. At one point she seemed to lose it completely, breaking a chair over the back of her guitarist, who tried to hide his shock. It was hard to tell if this was over-the-top theatre or genuine cathartic emotional trauma, and the combination of overt sexuality, vulnerability and unhinged ferocity was strange and unforgettable.
Posted by

Brainlove
at 2:16 pm
0 comments